Acres Owned By Bonner Farms
Number Of Cattle Raised Annually
Pounds Of Beef Processed Annually
We are a 100% vertically integrated beef operation, meaning we grow everything the cattle eat, we raise them ourselves, we hand select every head of cattle for harvesting, we butcher them in our own shop, dry-age the beef,  custom cut all of the meat & deliver on our own refrigeration trucks! Very few beef operations can say the same.
The fact is we do things differently, and you can taste the difference! 
Save BIG with Our Market Specials!
Burger Bags Include:
24 Qty 1/2 Lb. T-Bone Shaped Patties
16 Qty, 1/3 Lb. Round Patties
10 Lbs. of Ground Beef
ONLY $150.00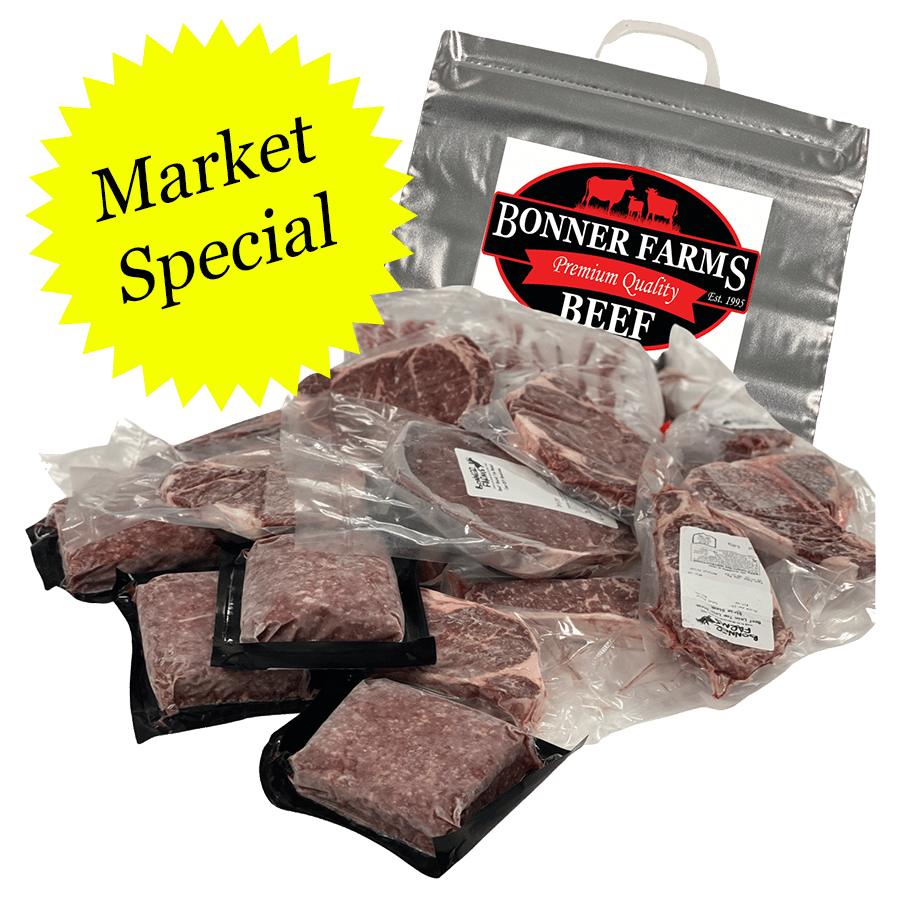 Our Beef Bags Include:
4 Qty 12oz. T-Bone/Porterhouse Steaks
4 Qty 10oz. New York Strip Steaks
4 Qty 12oz. Ribeye Steaks
2 Qty Bone-In Chuck Blade Roasts
12 Qty - T-Bone Shaped Patties
5 Lbs. of Ground Beef
ONLY $250.00
Meat Bags Include:
2 Qty, 2-Lb. Packs of Ground Beef
1 Qty Rump Roast
2 Qty (packs), Polish Sausage (3 per pack)
1 Qty Pork Tenderloin
2 Packs Chicken Breasts
2 Packs Chicken Thighs
2 Packs Drum Sticks
ONLY $99.00
We believe in accountability. When you purchase cattle from Bonner Farms you know exactly where your meat is coming from. Our name, address and phone number are on the label. We take pride in how we raise and how we treat our animals, to provide you with healthy, clean, safe and delicious food.
Questions?
Have questions about our products? Interested in purchasing our beef?